September 3, 2019 by Sarah Van Goethem
Grimm, Grit and Gasoline
It's cover reveal day for an upcoming anthology I have a story in. Feast your eyes on this jazz-age masterpiece. If you like your history rewritten with fairytales and magic, this anthology might be for you!
A bit about it and where you can find it:
Dieselpunk and decopunk are alternative history re-imaginings of (roughly) the WWI and WWII eras: tales with the grit of roaring bombers and rumbling tanks, of 'We Can Do It' and old time gangsters, or with the glamour of flappers and Hollywood starlets, smoky jazz and speakeasies. The stories in this volume add fairy tales to the mix, transporting classic tales to this rich historical setting.
Two young women defy the devil with the power of friendship. The pilot of a talking plane discovers a woman who transforms into a swan every night and is pulled into a much more personal conflict than the war he's already fighting. A pair of twins with special powers find themselves in Eva Braun's custody and wrapped up in a nefarious plan. A team of female special agents must destroy a secret weapon–the spindle–before it can be deployed. Retellings of The Little Mermaid, Hansel and Gretel, Rapunzel, Cinderella, The Monkey King, Swan Lake, Pinocchio and more are all showcased alongside some original fairy tale-like stories.
Featuring stories by Zannier Alejandra, Alicia K. Anderson, Jack Bates, Patrick Bollivar, Sara Cleto, Amanda C. Davis, Jennifer R. Donohue, Juliet Harper, Blake Jessop, A.A. Medina, Elizabeth Murdock, Nellie Neves, Wendy Nikel, Brian Trent, Alena Van Arendonk, Laura VanArendonk Baugh, Sarah Van Goethem, and Robert E. Vardeman.
Praise for GRIMM, GRIT, AND GASOLINE:
"Magic mixes with grease and jazz in this fantastic new anthology that brims with strong heroines, diverse settings, and a heaping helping of Nazi-punching."
—Nebula Award-nominated Beth Cato, author of Breath of Earth
Official site: https://www.worldweaverpress.com/store/p165/Grimm%2C_Grit%2C_and_Gasoline.html
Available at:
Amazon on Paperback and Kindle eBook, Barnes & Noble, Rakuten Kobo and Apple Bookstore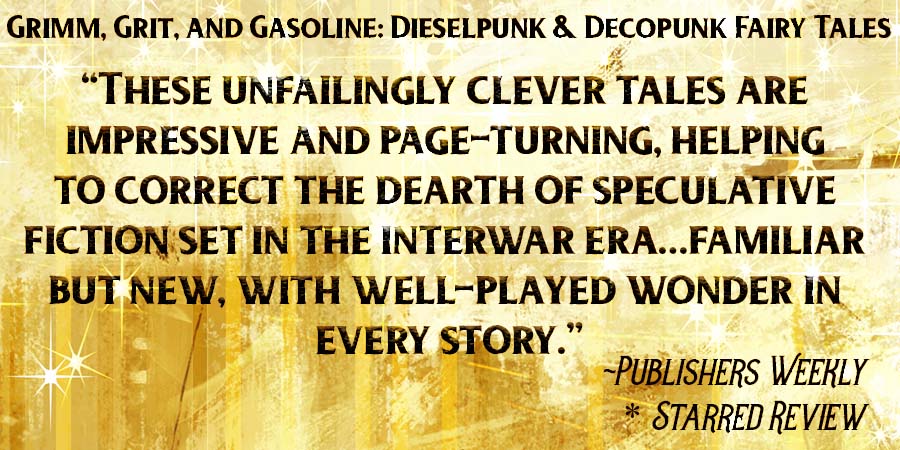 More information on Goodreads